Restaurants
Restaurants are an amazing, evergreen small business.
However, there exists fierce competition among restaurants,
and so, you need to put great efforts to be successful.
Following are some innovative marketing ideas for restaurants to
grab the attention of all foodies out there and let your restaurant business flourish.
1. Upload Food Pictures on Social Media
Instagram is flooding with food photos and for a good reason –
high-quality food photographs are the most effective way to promote restaurants online.
You can see below that Hina Bisht of @FunFoodandFrolic and
Nandita of @Saffrontrail shares high-quality food photographs
and gets huge engagement organically.
View this post on Instagram
View this post on Instagram
Visual content is highly sought after nowadays. So, upload some
delicious looking food photographs across different social media
channels like Facebook, Instagram, and Google+, and on your
restaurant website to draw more and more hungry eyeballs.
Consider seeking the help of a professional food photographer to
take some really great pictures, or try it out yourself with a smartphone.
2. Leverage Foursquare
Foursquare is a powerful platform for marketing in the restaurant
sector. Having positive reviews for your restaurant on Foursquare is
extremely valuable and can significantly help your business grow.
When it comes to Foursquare, remember that customers can and
will give reviews for your restaurant, even if your restaurant doesn't
have an account. Because of this, restaurant owners should be
proactive and create an appealing account on Foursquare so that it
works for them, instead of against them. So, add the maximum possible details, like:
• Plenty of relevant photos • Location • Store hours • Price range • Menu • Wi-Fi/Parking/Outdoor Seating/etc.
Another important factor to consider is how you respond to feedback. Whether you get positive or negative reviews, always thank consumers at Foursquare for the reviews. In the case of negative feedback, answer in a professional and polite way.
When answering negative reviews publically, make sure you thank the consumer for the review, apologize for whatever grievances they have stated, and promise that it would not be repeated.
3. Set Up a GoogleMyBusiness Account
As a restaurant owner, it's crucial to create a GMB account for your restaurant, perhaps even more important than creating a FourSquare account. This is because when a business is searched in Google, Google Knowledge Graph offers the details of the business in the sidebar.
Google Knowledge Graph shows most of the business information from operation hours, contact details, pictures, directions, reviews right on the SERP.
Therefore, it's a huge plus to have your restaurant business set up well on Google. Additionally, encourage your visitors to review your restaurant on Google+, since Knowledge Graph usually aggregates the Google user reviews.
4. Employ Geo-Targeted Ads
For most of the restaurants, the target is 'local'. People mostly look for good restaurants close to their homes.
To get the maximum value out of the online marketing efforts you put, invest in geo-targeted advertisements primarily. With geo-targeted ads, you can save money and ensure that people within a certain radius or from certain cities can only see your ads (removing any irrelevant clicks).
Several online advertising services, such as Twitter Ads, Facebook Ads, and Google Ads, provide options to use geo-targeted ads absolutely for free. Make sure to make the most of these helpful targeting features so that your customers get the best ads.
5. Send Email Newsletters
Email newsletters, another solid marketing strategy, don't need to be weekly. Your customers and prospects are likely to appreciate fewer emails.
Consider sending out email newsletters once a month. Through your newsletter, share special discounts, present the list of new menu items, and celebrate your restaurant's success.
6. Start a Blog
An effective way to build customer engagement and a community is by starting a blog. Blogs provide you with an opportunity for experimenting with the voice and personality of your restaurant.
Share your recipes, funny stories, struggles and successes, and everything else that might draw the interest of your target audience.
7. Ensure that your Online Details are Correct
Eaters are great at doing online research. In fact, around 89% of consumers carry out research about a restaurant online before visiting.
So, it's crucial to have all the details of your restaurant online and keep them up-to-date. This information includes your current menu, hours, phone number, address, etc.
8. Share User-Generated Content
An effective way to build intimate and personal engagement with customers is by promoting user-generated content. Organize a photo contest where you ask customers to share favorite meals at your restaurant.
Have a dedicated content page to share the entries. You may also share the entries on your various social media pages. Award some random lucky customers a prize like a free appetizer.
9. Show Off your Employees
We often long for the human element in this era of robots serving as customer service representatives and soon to emerge self-driving cars.
Show off your amazing staff doing their jobs. The smiling, happy faces of your employees are bound to boost your reputation since customers love being served by happy workers!
Gyms
If you own gym business, you know how competitive the fitness industry is! Maintaining customer loyalty is challenging in this industry. To keep your current clients coming back and get new clients, your gym needs to provide them with something special…something different from the others. You need to strengthen your relationship with your clients and offer them benefits that let your gym be more appealing to them than the competition. Following are some brilliant gym marketing campaign ideas for you to draw more clients to your gym:
10. Carry Out Promotions on Multiple Social Media Channels
On social media channels like Twitter and Facebook, contests and promotions are highly popular posts. Run a seasonal contest or promotion to catch the interest of people. Follow fitness trends and use hashtags to have maximum impact and reach.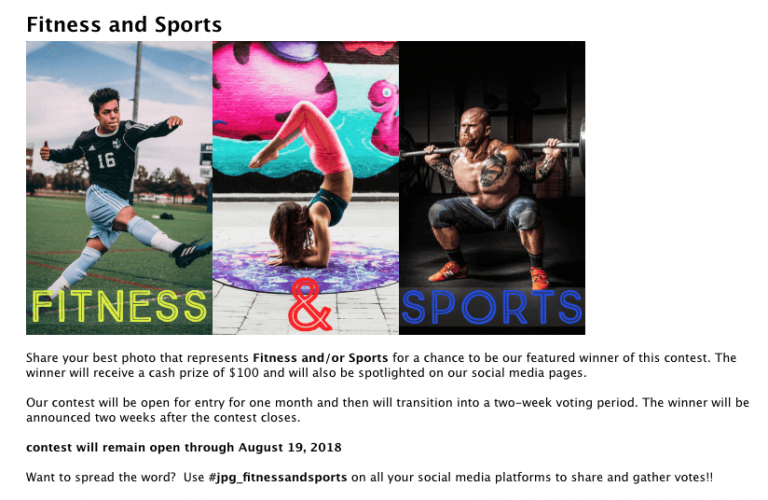 For maximum efficiency, consider automating social media management. An example of a contest would be: "What fitness goals do you want to reach this year? Share your fitness goals! One with the best story would win free yoga classes for a whole year!!"
11. Organize Charity Competitions
Involve in the local community to differentiate your gym from the others. Create a short online signup form that can be used by participants to register easily and quickly. The competition may have single participants or include groups. Donate some percentage of every entry fee to your preferred local charity.
12. Advertise New Workouts
Keep a track of the fitness trends and introduce new workouts before they become stale. Market the new workouts to new leads and clients via email newsletters and automatic social media updates. Many people are attracted by new workouts which they came to know about through TV or social media.
13. Provide Special Offers on Gym Anniversary
On the occasion of your gym anniversary, provide special offers to the first 15 or 20 non-members who visit your gym. The special price you offer would largely depend on what kind of gym you have and your monthly costs of membership. If your gym offers one-to-one training, it's likely to be a bit pricey for you to offer free membership of six months with a contract of 12 months, as compared to big-box gyms. Examine your membership well and provide an offer that's unique and gets people in your gym's door. As the 20 non-members visit your gym, ensure that you give them a warm welcome, introduce them to trainers or coaches, and offer them a tour.
14. Offer a Training Day for Free
Build a landing page on your gym website in which non-members will be able to sign in with email, Facebook, or Twitter and get a one-to-one training session absolutely for free with a trainer or they can join for a class.
When people sign-up using these methods to receive free training, you get their information that you can use to offer them further information even after the free training has been claimed by them. These people are checking out your gym to see whether it's fit for them. They need to feel comfortable and feel like they would get the results they want. One session or class may seem like a very short time for taking care of it. However, it makes the difference between someone liking their experience and signing up right away and someone just liking their experience and walking away.
15. Offer a Free Month Pass in Return for a Google Review
Google reviews are actually read by people and they help increase the ranking of your business in local SEO. Reviews significantly influence people's buying decisions. If you don't have enough Google reviews, ask your gym members to leave reviews about your gym. Whoever leaves a review, provide them a free month pass for giving to their family and friends. This SMB marketing tactic does three things – gets you more Google reviews, make your members happy (as they can give that pass to someone they know), and gets new people joining your gym.
16. Feature a Member Every Month or Week
If you have highly enthusiastic gym members who work really hard for reaching goals. If yes, appreciate their effort and make them feel special by featuring them as the member of the month or week on your social media pages and website. This marketing strategy is sure to keep your current gym members happy, which is an integral part of fitness marketing.
17. Answer Questions of Members through Blog Posts
There are questions people are continuously asking you during class, right? Answer them on your gym website through blog posts. These blog posts would not only help your current members, your website now has a place for people to turn to for FAQs and resources. You may take this one step further by creating short videos where you answer the questions. Then, post the videos on YouTube. This SMB marketing idea works great for fitness centers and gyms having lots of technical workouts. Creating such unique content not only saves a lot of time and keeps members, but also helps with the ranking of your website for more keywords. Posting valuable, consistent, and SEO-Optimized content will get more visitors to your site.
18. Tap into the Potential of Email
An inexpensive yet highly effective method of advertising special offers is via emails. Through emails, remind your current members who are not using their membership to the fullest to come and enjoy your gym. Use a service for email creation with targeted email marketing for finding members who require a bit of encouragement. Encourage people to subscribe to your emails with a pop-up on your gym website. Provide people with an exclusive discount on the gym membership when they subscribe.
Travel Agency
Online marketing of travel agencies can be challenging. With keen competition and low ROI, attaining visibility can be difficult. However, with the right tools and techniques, you can effectively market your travel agency and stay ahead of the competition. Below are some smart ways to market your travel agency online:
19. Get to Know your Customers
The first step to crafting a marketing strategy is understanding your ideal customers. Obtain demographic information and find out what drives your target customers while researching booking, and planning. Define three customer personas. Build your website, marketing strategy, and branding around them. Keep in mind your 'why' and figure out ways to use it to connect to your target audience more personally.
20. Optimize your Website
Your business website is one of the fundamental elements of your online marketing strategy. Improve your site if it's dated, cluttered with irrelevant content, malfunctions on mobile devices, or loads slowly. A great tool you can use for testing your site's speed and performance is Google's Test My Site. Your website may have an amazing design, but may not be optimized to get clicks or conversions. In this case, consider seeking the help of a professional web designer. Make sure your travel agency website looks great and functions its best to prevent losing revenue. Some effective tips to help with your website are as follows:  Go for a responsive design  Track your site visitors with Google Analytics  Improve user experience  Simplify your website design  Have compelling copy and content
21. Leverage Social Media
Social media is an economical channel to market your travel agency. You need to choose the right platform as well as design an effective strategy. While doing this, consider your target market and objectives carefully. When it comes to the marketing of tour operators and travel agencies, Facebook remains one of the most effective social platforms for driving more web clicks. Although the competition is quite high, you can stay ahead with boosted posts, custom audiences, planning, and testing. Use Facebook Insights for tracking, managing, and altering your strategy according to your goals. In case you have time constraints or want to use social media better for marketing, seek the help of a professional social media marketing agency to get the maximum returns out of your investment.
22. Use Videos
Watching videos about travel destinations is a way more immersive experience than reading about them. According to Hubspot, in cases where both text and video exist on a page, 72% of people would prefer watching the video to know about a service or product. Nowadays, you can produce high-quality videos in a cost-effective way. Create a YouTube channel and make videos of your tours, customer testimonials, staff holidays, families, destination reviews, packing guides, and anything aligning with your customer personas and goals.
23. Leverage Content Marketing
Since content is king, make engaging content an integral element of your content marketing strategy. Understand your target customer's journey. Determine how to use the content for guiding your visitors and converting more leads. The content that you will generate doesn't need to be longer in size every time, however, it should be valuable as well as relevant to your target audience.
24. Encourage Check-Ins and Reviews
In this digital age, reputation translates into revenue. Studies show that 81% of travelers consider travel reviews to be important. Simplify the process of leaving reviews for your customers on sites like Expedia and Trip Advisor, your business's, Google My Business (GMB) page, and social networks. Moreover, ensure that you nurture reviews as well as respond accordingly if necessary. Reviews not only boost consumer confidence and build trust but also help increase your site rank and conversion rates.
25. Advertise Locally
Local advertising opportunities are almost everywhere around you – from bulletin ads, pizza boxes to newspapers. Put your business name, contact information, and logo out publicly to let people know about your travel agency and services. This can also enhance your agency's public relations image.
Pet Sitting
For both new and old pet-sitting businesses, advertising their services is crucial. And, for most pet sitting businesses, marketing their services in a cost-effective manner is also important. Here are some low-cost or free promotional ideas for your pet-sitting services:
26. Draw Local Media Attention (for Free)
Announce new employees, important business anniversary dates, and new services offered by sending press releases to local media. You can also send press releases notifying special events or seasonal press releases (like winter tips for pets).
27. Set Up Free Social Media Accounts
Research shows that most pet sitters choose Facebook for promoting their services.
28. Always Take your Business Cards Along
Whether you are in a grocery store, at a networking event, a dog park, or simply walking down the street, always have your business cards with you.
Pets serve as wonderful icebreakers and are great topics of conversation. This may even result in future business!
29. Visit Pet Food Stores
Visit your local retail pet food shop or feed store. People with pets always need to purchase pet supplies and pet food. Ask the owner whether you can post flyers about your business on the store's bulletin board or leave your business brochures on the shop's counter.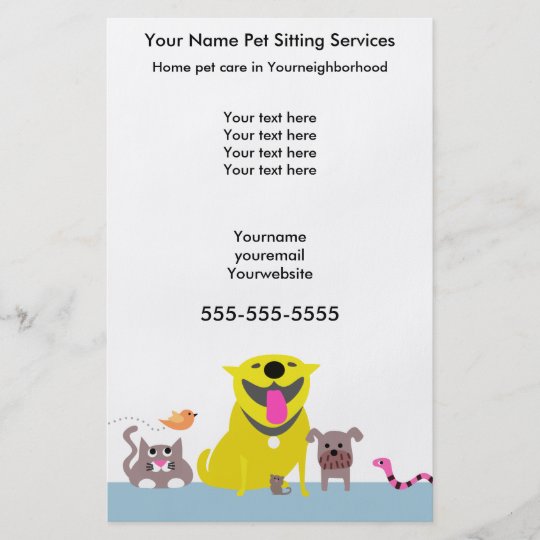 30. Give Out your Business Cards to People you're Doing Business with
Give out your business card to your hairdresser, bank, dry cleaner, and others you're doing business with. When you're eating out locally, ensure that you leave your business card along with your tip. (However, don't leave your business card if you're not giving any tip to your server.)
31. Look for Pet-Owning Households
While walking out a client's dog in your neighborhood, check out for signs of households that own a pet, like fencing, outdoor dog runs, etc. Try leaving door hangers in homes having invisible signs and fence flags. Make sure to be informed about and follow local ordinances. For instance, putting signs, flyers, etc. in mailboxes isn't allowed in some areas.
Salon
If you run a salon business, it's important to stay ahead of the competition to hook more and more customers. Here are some creative marketing ideas you can apply to expand your customer base.
32. Offer Discounts on Referrals
People often refer manicurists or hairdressers they love, to their friends. It's a great idea to offer your customers some bonus since they are doing your salon's advertising for free, helping you get new clients.
Consider sending a postcard or email having a heart-warming note, like
"Thanks for referring our salon to your friend, [friend's name]. We're so happy you referred us. And we're glad to offer you 10% off on your next visit!"
Jason Hall, Co-Owner of Red 7 Salon uses this referral and rewards program and considers this as their foremost marketing strategy.
33. Use Geotargeted Ads
Whether you use Google Ads (formerly AdWords) or Facebook Ads, go for geotargeted advertisements. It will help you receive appointment requests from clients from the same city where your salon is.
34. Use Mobile Ads
Mobile ads can prove to be highly helpful just like geo-targeting, especially with the new bidding features of Google Ads that let users bid differently on mobile and desktop.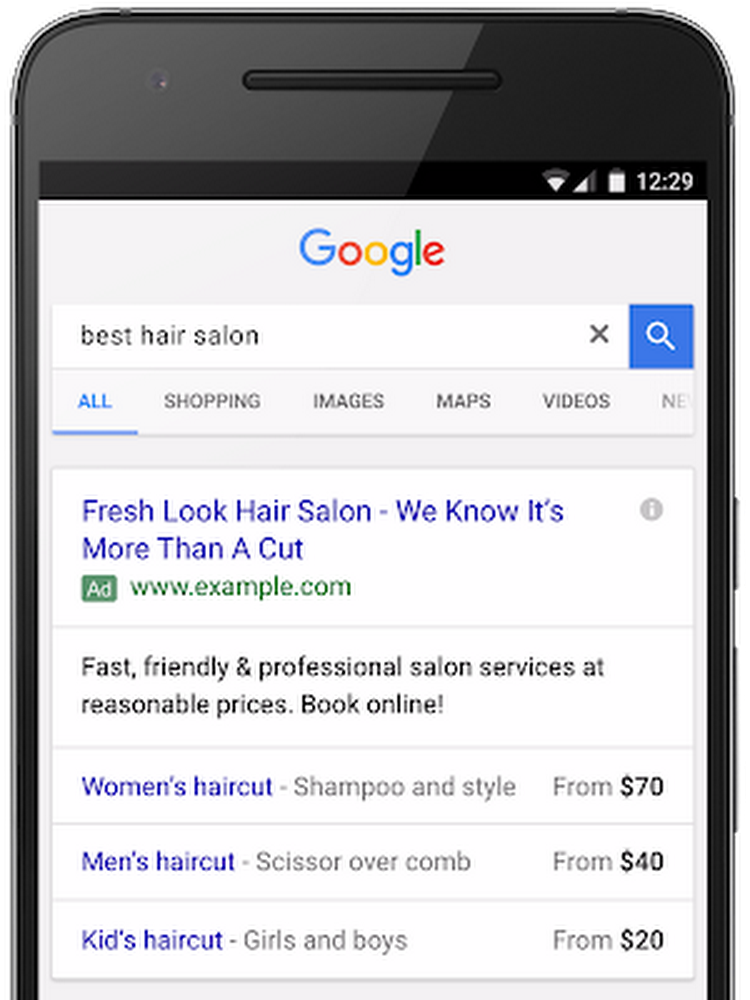 35. Have an Online Reservation System in Place
Speaking to people for making an appointment is not always convenient for customers. It's best to have a smooth online reservation system on your salon website. You can also try using online salon booking sites like MyDala and StyleSeat.
However, if that's not a plausible option, try including your email address in the contact information which people can send emails to for setting up an appointment.
36. Provide Flash Sales over Twitter
A flash sale is one of the most effective salon marketing tactics! A great platform to advertise this is Twitter. Here is a tweet example you can use,
"Haircut at $10 for anyone who wants to let our new expert hairdresser apply her skills!"
Give this offer to one who's the first to respond.
37. Leverage Instagram
People love to watch videos on Instagram. Instagram has loads of different videos – of people sharing cosmetic cream preparation ideas and beauty tutorials. MirrornCombSalon makes really good use of creative and interesting videos.
View this post on Instagram
Women love watching videos showing someone's hair getting dyed in different colors or chopped short, or nail accessories glued on expertly, or hair extensions added. With the permission of your clients, record their videos in your salon. An even better idea is asking your clients to share their videos on their Instagram profiles, which would draw their friends and acquaintances to your salon.
Photography
If you are a passionate photographer with an amazing portfolio,
who wants to reach out to the world, you need to employ effective
photography marketing ideas. Here are some tips and tactics for
the ambitious photographers out there to stand out of the crowd:
38. Ensure that your Website or Online Gallery is Appealing & Loads Fast
Your website/online gallery represents you, and so it must be beautiful
and should load fast. Site loading speed is important.
In case your business website takes over 4 seconds for loading,
there are high chances that 60% of the site visitors will 'bounce',
i.e., they would leave your website without visiting any more
pages. A great tool for checking the load speed of a website is gtmetrix.com.
39. Participate in Online Photo Contests
An effective way for photographers to broaden their audience is by taking part
in photo contests held online. Sites such as shootandshare.com, viewbug.com, and Pexels.com host free
daily or monthly contests.
In Pexels, the site offers photo submissions in the form
of a stock photo library for free. When a photograph is
downloaded by users, they can directly donate to the photographer's PayPal account or they are connected to
the photographer's social media channels.
40. Repurpose your Content on Facebook as Cinemagraphs
Repurposing your content is one of the most effective means
of reaching a broader audience. Consider creating
something unique such as a cinemagraph or a reverse cinemagraph. Cinemagraphs are types of moving images
in which the juxtaposition between an area with looping
motion and high definition stillness produces an interesting
effect. The effect is so attention-grabbing that studies on
Facebook ads revealed an increase of 300% in conversions
on conducting a split-test of an ad's cinemagraph version
against the same photograph's still version.
While you need to use a video clip for making cinemagraphs,
you can easily incorporate subtle looping animations
in your still photographs with a tool such as Plotagraph.
41. Use YouTube for Supporting your Portfolio
YouTube has emerged as an effective marketing tool for
filmmakers and photographers over the last few years.
Many famed photographers have employed YouTube for
offering tutorials on photography, framing, lighting, and more
for exhibiting their skills and knowledge. Although this is not a portfolio
traditionally, generating such creative and engaging content not only promotes
your growth as an artist, it assists
you in reaching more audience too. You may employ this
content for directing people to your social networking accounts
and your static portfolio website.
42. Use Google Business Pages
When people search on Google including a location in their
search phrase (keyword/keyphrase), like "Kolkata Wedding Photographer", Google puts the Google Business listings
above their organic listings in the rankings.
at the earliest! If you intend to appear in local listings,
make sure you complete your profile and get some reviews.
Upload some of your photographs too, since they appear in search results sometimes.
43. Start Networking with Other Professionals
Collaborate with other professionals in your city.
Business owners can show a high degree of loyalty towards one another.
If you promote their businesses or services to your clients, they would certainly reciprocate.
Life Coach
Learning how to promote yourself as a life advisor can help you turn into a successful life coach. Here are some interesting ways to market your life coaching business and draw clients.
44. Hand Out Unique Business Cards
A business card is perhaps the most basic tool for marketing yourself as a life coach. Design your business card creatively to make sure your card makes you someone memorable to people you meet on the plane or train, at parties, or at networking events.
45. Get Testimonials from Happy Clients
Client testimonials are an inexpensive yet effective marketing tool. Testimonials placed on your website or brochure, are a powerful and free way of advertising. However, obtaining testimonials may turn out to be a bit challenging from the perspective of both the client and the coach. Asking your customers/clients for a review after service via email. Whitespark (a Canada-based local marketing company) has a great email template that really works.
46. Build a Website that Works for you
It's good to have a website that's visually appealing and offers a lot of information. But it's not enough. You need to have a website that's found easily by search engines and has content that draws coaching clients as well as sales.
47. Host a Webinar
Nowadays, an effective means to attract clients is giving an interactive, visual online seminar that promotes your message and offers value. However, webinars are of all kinds – some that hook the audience within seconds and some that instantly turn them off as they are poorly presented. So, make sure your webinar is great!
48. Google AdWords
Advertising with Google AdWords can be rewarding! In Google AdWords, every time a visitor clicks on your advertisement, they are directed to a web page meant to promote your life coaching service, and then, hopefully, contact you for further information or take a desired action like signing up for a demo session. Payment is made for each click. The amount you pay depends on your choice. To make your AdWords campaign a success, get your keywords right. This allows Google to place it properly to draw the right visitors.
49. Write a Book
Writing a book on life coaching is a powerful way to improve your profile, get clients, and build authority. Additionally, if life coaches list and promote their books on Amazon as well as other online book websites, they can make considerable extra income. By writing a book, you can get credibility and status. You can also get something to sell and refer to at various speaking engagements.
Nutritionist
If you are a nutrition and wellness company, it's important to apply both online and offline advertising ideas to effectively promote your business. Listed below are some great marketing tips for nutrition and wellness professionals and companies:
50. Organize Free Events
Organize events once a year at the least to stay on the minds of your customers. To get contracts with customers, it's essential to draw their attention, and one of the most effective ways to do so is organizing events. For example, organize open-door days, teach classes, or arrange other events to catch the interest of people in your business.
51. Conduct Seminars
Conduct various seminars for promoting your business. During the seminars, speak on, for example, why are nutrition and wellness firms important, inform your prices, introduce your offers, and so on. The topics you can discuss are many, like fitness projects, health tips, wellness calendar, nutrition goals, and so on.
52. Use Print Media
Apart from online media, you can also leverage offline media for marketing your nutrition and wellness business. Write articles in the local newspapers and print brochures, flyers, and business cards so as to be seen by your community. Moreover, ensure that all the essential information is given on these things to convey clearly your business's purpose to your target customers.
53. Leverage Local TV Programs
Though internet usage has massively increased, television still has a place in the lives of people. You can be seen by a major section of your target customers by appearing on television. Attend the local news, local TV programs, and so on. This is not only an effective means of advertising but would also get you fame.
54. Partnerships
Having partners can help your business be known and developed. As a nutritionist or a nutrition and wellness firm, you can partner with a local diabetes association, or a sports store to promote your business, and so on.
55. Use Branded Merchandise
Use branded merchandise to make your business unique and remarkable. Try being creative and developing things that can draw people and create the right impression on their minds. Rather than simply putting your slogan and logo on your products, try labeling and packaging products such that they look remarkable, grab attention, and make people happy.
Dentist
If your dental practice needs more patients, you need to employ some creative SMB marketing ideas to promote your dental business. Following are some marketing strategies for dentists that would help them acquire more patients:
56. Send Out Postcards to Potential Clients
Direct mail postcards make a great tool for reaching new patients, reminding your existing patients to visit you for appointments, and announcing new procedures or services.
57. Leverage Google to Draw Local Patients
Many potential patients are looking for dentists like you via Google. Ensure that when people are searching "dentists in [your location]", your website appears on first page of Google's search results.
58. Encourage Clients to Give Online Reviews
Client reviews is one of the most effective ways of growing your dental practice. Reviews build your reputation as well as help you get an idea of how your dental practice is doing. A great online tool to solicit and manage client reviews across more than 20 review sites (that include Healthgrades and Facebook), all from a single dashboard, is Podium. Practices using Podium have seen around 15 times more client reviews as well as a significant boost in walk-ins.
59. Use Video Testimonials
Tap into the potential of patient testimonials in video form to market your dentist office. It's really impactful for prospective customers to see a real person speaking on how your dental service has improved their life. Sakra World Hospital in Bengaluru practices this and get reaps great benefits and trust. Creating such videos don't call for any expensive equipment – a tablet, smartphone, or computer with webcam will be enough. Shoot the video at a place with ample light, and which is quiet. Don't make such videos long.
60. Use Facebook for Marketing
Although this marketing method is not flashy, but it works well for small dental practices. Leverage social media, Facebook in particular, to promote your dental practice. Use a photograph of the staff of your dental office (where they are smiling), to accompany any messages regarding their services. By using a group photograph of your staff and targeting the right section of the population (with Facebook), you have both authenticity and authority. Team it up with client testimonials to have a social proof too.
61. Use Google Maps Ads
Advertisements on Google Maps have the potential to drive prospective patients right to your office. When the user enters "dentist" in the search bar, the results appear on the map as well as search results list. When searched through mobile, such ads also include call CTAs and directions.
Event Planner
If you run an event planning business, growing your client base depends largely on how well you're marketing your business. Here are some inexpensive marketing ideas to advertise and promote your business:
62. Choose 2 to 3 Social Media Platforms
Many event planners try to be on all the social media platforms simultaneously. This is a big problem. This not only would overwhelm you, but also reduce the time you could devote to the more important aspects of your business. When starting out first, try covering the top social profiles that best represent your business. Figure out where your target customers are. Do you intend to target any specific demographic of customers? If yes, be where your customers are! Offer event and wedding tips, share your pictures, and feature the stories of your clients, with the clients' permission of course. Since event planning is largely a visual business, try being on Instagram! Moreover, have a winning bio for enticing new followers.
63. Network Well
Networking can help you build a large client base. Networking has several benefits. If people have already met you and are aware of what services you provide, they may use your services themselves or refer other prospective clients to you. Additionally, networking with caterers, hotels, and the likes will offer you the opportunity of meeting some professionals whose services may be needed by you while planning events.
64. Carry Business Cards
A business card is a small yet powerful marketing tool. It serves as a small brochure, especially if the business card is a tri-fold one. A lot of event planners choose tri-fold business cards since greater information can be contained in them compared to traditional business cards. In your business card, include your business name, your name, your logo, your specialization, contact details (for example, email, website address, and phone), and some client testimonials. Make sure you carry your business cards always, so as to not miss out on business from any potential client.
65. Advertise Smartly
Print advertising ranges from inexpensive or free Yellow Pages advertisements to an advertisement in a famous national publication that can be quite expensive. Most event planners consider it sensible to advertise in Yellow Pages. You may also advertise in a popular regional magazine or your local newspaper, in case you plan social as well as corporate occasions. The magazines can cover topics related to event planning services (like floral design, gourmet food, etc.) or be targeted at readers belonging to a certain region. Advertising in a popular regional magazine can be an effective means to reach upscale consumers.
66. Create a Blog
A blog not only establishes you as a thought leader in your industry but also gives your target audience a bit more insight into your business. By blogging, you share your knowledge at no cost to attain the trust of potential clients. When it comes to blog topics, the possibilities are endless. Topics can be – how to establish your own event planning business, tips to set up events, and so on.
67. Collect Emails
Your website should have the feature to collect emails at three places at a minimum. You can collect emails through • Pop-up window • Your home page's the bottom/sidebar • A link at the end of each blog post In case there's no social media tomorrow, your email list can be the only way to contact your target audience. As you can't control social sites, it's smart to have alternative methods of getting in touch with your prospective clients. Send updates and information to your subscribers letting them know about the new stuff in your business as well as to stay on their minds.
Private Tutor
Whether you are a single-person tutoring business or a multi-tutor company, you need to employ some effective promotional ideas to fuel your business. Following are some low-cost marketing techniques to help you thrive as a private tutor or a tutoring company:
68. Market your Tutor Business in High Impact Locations
Certain places are ideal to advertise tutoring services since they receive huge traffic from students as well as families with students. These locations are – schools, public libraries, community centers, and coffee shops. To broaden your reach, try advertising in the maximum number of these places in the area where you are offering tutoring services. Your only expenditure with these methods would be the cost to print your marketing materials, like posters, brochures, etc., and the cost to drive to these locations.
69. Use Google Places
Google Places – the local business listing offered by Google – can be used by businesses for free. When someone searches for a business on Google including the city name in the search query, the topmost results appearing are local search results specific to the area. In case you have a physical address for your tutoring business (even if it is your home address), consider adding your business profile in Google Places. What's best? It's completely free!
70. Use Tutor Directories
Online tutor directories are great places for promoting your tutor services as many people who need tutors check these directories. Some tutor directories would let you list your tutoring services at no cost while some others may ask for a fee. Some examples of good tutor directories are The Tutors Directory, Teacheron.
71. Use Microsoft Ad Center or Google AdWords
A great way to drive traffic to your website is by search engine marketing. The chief services for such advertising are Microsoft Ad Center and Googe Ads (formerly Google AdWords). These services place ads in the search engine results as well as participating websites. They let you target ads by keyword search and geography.
This enables you to target your ads to the geographic location where you are offering your tutor services, and only to people searching for information on tutoring services.
72. Have a Website
Having your own website can help you offer more information compared to what you can offer through a standard poster or brochure. It can also enable you to reach more people. Make sure you add your website URL in all your marketing materials so that people can know more about you and your services online. There are a number of platforms that let you build a website for free, such as wordpress.com. However, free websites have a lot of limitations that won't let you add your services with flexibility and the way you want.
73. Advertise on Community Newspapers
Advertising in community newspapers is an effective way to reach your target audience. In community newspapers, you may place an ad within the classifieds section or you may go for standard advertisements appearing on the newspaper's front beside the articles. Standards ads might be too costly. However, a classified ad written well can bring you success.
Fashion Designer
The fashion industry is a fiercely competitive field. Even if you are immensely creative and always brimming with outstanding ideas that have the potential to make big breakthroughs in the world of fashion, you need a carefully crafted marketing plan to make your ideas a success! Following are some great marketing ideas to help fashion businesses/fashion designers thrive:
74. Have a Winning Logo
One of the most significant channels for recognition of a brand for fashion businesses is their logo. A fashion brand's first brand recall is the logo rather than their clothing line. When someone says, 'Burberry', the first thing coming to people's minds is the check logo. When someone says, 'Nike' or 'GAP', the logo of these brands comes first to our minds. The logo serves as your product's face. Design your logo based on your target audience that includes demographics like geographical location, sex, and age. For example, brands of sports fashion have simple yet iconic logos. Contrastingly, expensive fashion brands like 'Louis Vuitton' or 'Gucci', have way more intricate and detailed logos.
75. Have a Unique Selling Point/Unique Look
One of the common mistakes made by new fashion entrepreneurs is simply following the current trends, and not marketing themselves as the owner of a tagline or style prevailing in their products. As a matter of fact, if you create temporary fashion trends, your value would last only for a season. However, if you offer something different, market it smartly to get rewarding results.
76. Have your Own Online Store
In this digital age, having an online store is crucial. An e-commerce website with an enticing design and seamless functionality can be a game-changer for your fashion business. You can sell a host of items online ranging from lavish scarves to customized corsets. To start selling your fashion products online, you need an e-commerce site interface and need to carry out a deal with one of the reliable courier companies.
77. Do Social Media Marketing
For fashion businesses, social media marketing makes one of the most impactful brand awareness channels. Leverage social media platforms like Twitter, Facebook, Snapchat, Pinterest, and Instagram to market your product line. Paid Facebook campaigns are also helpful for small businesses since they target only potential customers. In such campaigns, ads are displayed on the basis of the interests of the users. Starting with a few rupees, these campaigns let your brand achieve recognition on social media.
78. Host Events
In the fashion industry, several companies also participate in sponsoring events. For instance, luxury car brands like Mini Cooper and Mercedes sponsor as well as host events with several fashion brands. However, what can you do as a fashion business startup? Well, host a fashion show on a small scale locally and broadcast it LIVE on YouTube. You can also go LIVE on Instagram.
79. Provide Discounts and Offers
In the fashion world, discounts and promotional offers are always loved by consumers. Come up with lucrative offers and discounts on your selected products to draw more and more customers. Use emailers for communicating these discounts and offers to your customers and prospective customers. However, avoid sending too many emailers since that may lead to the recipient blocking you on their email. This is something you certainly don't want from your prospects. But you also need an excuse to let consumers know about your promotional offers. This should not be a very difficult task considering there are so many festivals and occasions when consumers like to shop. Try making the most of all consumerism opportunities.
Agriculture
With more and more people preferring to buy and use local produce, setting up a small agricultural business is surely a great idea in today's time. However, for your business to thrive, you need to employ smart agriculture business marketing tactics. With an agriculture business, your prospective customers range from residential consumers to commercial kitchens and schools. Here are some great SMB marketing tips to promote your agriculture business effectively:
80. Identify your Market
The key to market your farm products/agricultural business effectively is identifying your actual target customers. Who buys more often from you – men or women? Are your customers retired, middle-aged, or young? Do your buyers have a particular income level? Are they belonging to a particular ethnic group? Are your customers geographically dispersed or living in a certain area? When you know who your prospects or customers are, you can tailor your marketing message according to their desires and needs, thus increasing the chances of them buying from you.
81. Create an Interesting Logo
Your agriculture business logo can be as simple as the name of your business in a unique font, or something more intricate, including illustrated elements pertaining to your business name or product. Create a logo that projects your business image on the basis of your objectives and goals, and elicits a certain feeling for your business/brand. For instance, if you own a wildflower farm catering to female clients, you would want your brand logo to elicit romance. You can do this by incorporating a feminine font and using natural, soft colors like pastels, sky blue, sunflower yellow, or grass green.
82. Build a Website
A website is a crucial ingredient of any effective farm/agriculture marketing plan. A website is an economical channel to reach a broad base of customers. Whether your website serves as a static business brochure to boost your brand visibility or you sell products online through it, a business website can significantly help with getting new customers and increasing your sales without any huge investment. Make sure your website is visually appealing, seamless in functionality, user-friendly, intuitive, and matches with your industry, i.e., agriculture.
83. Attend Agriculture-Related Events
Events, like festivals, seminars, farmers' markets, demonstrations, etc., offer you a great opportunity of marketing your agricultural products in a hands-on environment. Similar to some buyers not preferring purchasing from catalogs, some customers prefer an in-person meeting with you and want to see your products prior to making a buying decision. Other events like demonstrations at a local fair can bring in business for you too. Get in touch with a local newspaper and check out if they would like to cover what you are doing so as to increase your exposure further.
84. Start Advertising
Your budget may not allow display advertisement in glossy magazines, but you can certainly go for small classified ads. You can also get cost-effective advertisement opportunities through newsletters and show programs. When it comes to an advertisement, remember that you have a couple of seconds only to catch a reader's attention. So, craft a headline such that it grabs the interest of the readers instantly and makes them want to keep on reading. Ensure that you include your agricultural business name, website address, and phone number in all of your advertising. If space permits, include your tagline and logo too.
85. Set your Business Apart
Every business needs to decide its USP (Unique Selling Proposition). Your USP determines why should a prospective customer seek your products/services rather than any of your competition's. What are the unique benefits offered by your agriculture business? What distinguishes your business from the others of your kind? Its freshness? Quality? Personal services? Rarity? These qualities can be elements of your USP. Your USP should be a clear, concise, and simple statement conveying the benefits your business offers. Besides your target demographic and product line, your USP to serves as your North Star, guiding you even at times when the future seems uncertain and things look foggy. So, invest some time to craft your USP. Write it down and place it at a prominent spot.
Tiffin Service
Tiffin service has made its way to the list of hot business options in the present times, especially in the metropolitan cities where it's difficult for people to find time for cooking. Although there's a huge demand for quality tiffin services, however, gaining popularity in this niche isn't that easy. Nevertheless, smart marketing and promotion tactics can help you gain ground in this industry. Following are some cheap promotional tips to help your tiffin service business thrive:
86. Have a Good Website
Building a good website is the first step to building your digital presence. Your website should be visually appealing, user-friendly, and provide the maximum possible information about your business. Hire a reliable web design and development agency to build your tiffin service business website. Always remember that your website would act as your business's face online.
87. Share Pictures
Pictures are powerful! Share photos of your facility, food, and staff on popular photo-sharing sites, like Instagram, Pinterest, etc. Pictures are great ways to tell your business story as well as gain the trust of your prospective customers.
88. Promote on Social Media
Social media is one of the most effective channels today to promote businesses. With a huge section of the population actively using social media, your business can attain significant online visibility and popularity if you use effective social media marketing techniques. Use the most prominent social media sites for business promotion, like Facebook, Twitter, Instagram, Pinterest, and LinkedIn.
89. Share Videos on YouTube
Use YouTube to your advantage. Videos are simply loved by people. Share videos on YouTube of your business venture, your facility, your food and cooking, and anything that you feel your customers should know.
90. Do Smart SEO
Search Engine Optimization (SEO) is a powerful digital marketing technique that can help your business get more customers. Choose a reputed SEO company for your tiffin service business.
Handmade Goods
Unlike established and big businesses that have substantial revenues and large funding, small-scale handmade goods businesses have budget constraints when it comes to marketing their products. However, there are several low-budget yet intelligent ways to market handmade items businesses. If you own a small or medium-scale handmade goods business, here are some cost-effective and smart ways to market your business:
91. Create your Own Website
"Anyone that has aspirations of being successful selling their products online needs a website, period," stated the founder of Zibbet, Jonathan Peacock.
He added that when you promote your brand on the web, you need a place to send your audience. This place must be your own website, rather than a marketplace store such as Etsy. Moreover, when traffic goes to a marketplace, almost always some of that traffic is lost to a competing seller. This is because your prospective customers come across numerous options on marketplaces. Owning a website also provides you greater control. Your website is your own property, ruling out the need to depend on third-party channels, such as social media, which change over time.
92. Utilize a Sales Pipeline
A sales pipeline acts as a method to track at what stage a customer is in, in the process of the sale. It can be thought of like a funnel. A sale usually does not take place at the first interaction itself; a customer goes through several stages before buying. The funnel consists of the phases of awareness, consideration, and purchase decision. It's important to figure out what stages are there in the funnel and how the customer can be helped to move through each stage. In marketing, going in for a sale right away may not always be the best option. Try to build relationships and add value first as you help customers progress through the funnel towards a sale. The marketing of handmade goods is unique and differs largely from the marketing of mass-produced goods. According to the sales & outreach director at Mata Traders, Joint Bookheim, handmade products consist of the full story whereas mass-produced items may not come with the whole story. Natural transparency is associated with handmade products, which should be emphasized to customers.
93. Avoid the Marketing Approach of Mass-Produced Items
Although mass-produced and handmade items can leverage the same channels for selling, however, they target completely different customer segments, and so, the strategies for marketing both should be different. Businesses specializing in handmade items usually showcase the products after the purchase is made, in the home of the customer. Mass-produced items, on the other hand, look similar and so, the advertising strategies for the end once the sale is made. Since handcrafted items are usually bought because of their unique style and distinctive appeal in the home or wardrobe of a customer, it's always good to follow up with your customers after they buy your handmade goods. Post-purchase content not only looks great in blog posts and on social media, but it also makes your customer feel special, increasing the chances of them returning to your website or store for purchasing again.
Elevate your brand fearlessly – suggests Bookheim.
Whether you have a physical store or make products at home, photograph your products well as if they are one of the highest-selling products on the market. Step ahead of your comfort zone.
94. Attend Trade Shows
Attend relevant trade shows. If you sell handmade products for home, seek exhibitions of linen and home furnishings. Organize live presentations of the handmade products of your business during the show or market. You can also run a competition in which the winner wins one of your items. Collect the email addresses and names of the visitors coming to your booth. Include them in your mailing list. Send out email newsletters to them at regular intervals with pictures and details of the items newly added to your collection of handmade items.
95. Attend Craft Markets
Investigate farmers' and craft markets in your locality. Such markets usually occur over the weekend or on one or two days, during the morning, every week at community centers and local churches. You may need to pay some money in advance for a booth. Even if you aren't able to sell many items by attending the market, you get the opportunity to hand out flyers or business cards and display your handmade products. Use a child's blackboard for drawing a sign for directing customers towards your booth.
96. Use Social Media
Set up your business's social media profiles and post links there to your website and blog. Leverage platforms like Pinterest for showcasing pictures of your handmade products on arts & crafts boards. Create a fan page on Facebook for your business to feature your product catalog on the page. Build a Facebook store that is linked to the fan page, in which your followers can order products via a trusted medium. Promote your products using your Twitter account for business and seek feedback from your potential and current customers on different social media platforms.
97. Explore Unique & New Selling Avenues
Taking an out-of-the-box approach when selling your handmade items can help you stand out of the crowd and set the ground for continued success.
Get creative with your selling avenues to discover untapped audiences, which would boost the potential of your business exponentially – suggests the marketing manager of Maple Holistics, Nate Masterson.
Creative entrepreneurs should look out for unique and new sales channels, says Peacock. In spite of Peacock's suggestion to not drive visitors to a marketplace, it does not mean handmade businesses should not have one. The reason why you should not drive traffic to marketplace stores is the same as why you should – your products are getting seen by prospective customers since you are a part of the marketplace. Good marketplaces comprise internal traffic, providing more exposure to your handmade items. Greater exposure contributes to higher sales. So, leverage platforms like Etsy and Amazon Handmade. Peacock suggested handmade items business owners use as many numbers of sales channels as they can manage to sell their products. He added that handmade businesses shouldn't hesitate to try different marketing channels, like blogging, email marketing, social media, etc., so as to figure out the channel that works best for the business. Try one channel at a time so that the results of the different selling channels can be measured.
Real Estate Business
To make it big in the real estate business, real estate agents not only need to have the necessary skills but also do the marketing right. Like every business niche, real estate businesses have their own unique set of marketing needs that can be met with a carefully thought out marketing plan. Following are some effective marketing tips to help real estate agents take their business to the next level.
98. Automate your Marketing
Managing prospects and clients is important for real estate brokers or agents to grow their business. If you are a broker or agent, you might need to accomplish a number of tasks on an annual, monthly, weekly, and daily basis. So, it might be challenging for you to find time to share and generate content as well as follow up with your past clients. When you are faced with such time constraints, automated social media marketing, and email marketing is viable means of reaching your audience. You can find various tools that enable you to automate them by yourself.
99. Include Live Chat in your Business Website
Every business focuses on driving traffic to its website; however, what happens when one of your prospective customers reaches your website? When your potential customers visit your site, they should be able to find you. The most effective way of doing this is incorporating a live chat on your site so as to have 24/7 coverage. When it comes to conversion, live chat is a powerful marketing tool. A live chat allows your site visitors to ask questions as well as receive answers to them in real-time, and don't need to go anywhere else to get answers to their questions. Live chat also lets your visitors avoid the dreadful automated menu loop in which many get trapped when making a call to customer service. Chat enables a better user experience as well as provides you important information allowing you to reach out to your site visitors and follow up. The easiest and best way of upgrading your website is using ReadyChat – an innovative live chat service created for real estate specifically.
100. Improve your Photo Quality
The difference between a hurried snap and a professional, high-quality photo can be told by even untrained eyes. If the photos of a home are blurry, grainy, or taken at strange angles, there are high chances that the home's impression on someone's mind would not be as great as it can be. Make sure you don't use any poor-quality photographs in your marketing collateral or listings. To use good-quality images, you won't need to hire a professional photographer by spending a huge amount of money. Our phones usually have great cameras, and with the help of an editing app (many editing apps come for free), you can come up with some really great pictures. Before publishing your next listing, invest some time to capture some quality images. Try various angles and use natural light. You can find many tricks and tips online on how to take good shots. It will surely be appreciated by sellers and potential home buyers.
101. Generate Content Providing True Value
Your main focus, as a real estate agent, is on the clients who want to either buy a home or sell one. However, there are usually a few years in between the transactions. Clients who are not looking to buy or sell homes actively, would not find it helpful if you keep on posting listings one after the other. For clients who don't intend to sell or buy currently, you should send and share content packed with valuable information. With shareable content, you can also boost your business's exposure to prospective clients. This helps you stay on the top of the minds of your potential clients so that they remember you whenever they plan to buy or sell.
102. Post Actively on Social Media
Use social media channels to help your real estate business grow. Social media is an effective platform to leverage as it lets you meet your prospective clients where they are – on social media sites. A mistake commonly made by real estate agents is posting only home listings on social media. This is of no real benefit to any of your prospective clients who are not in the market currently to buy a property. You should share valuable and quality content as discussed previously on social media channels.
103. Ask for Referrals
According to 89% real estate agents, referrals from previous and current clients are a powerful marketing strategy. However, about 41% real estate agents don't invest any money per month to get referrals.
So, real estate agents should design a strategy for asking for referrals from clients, and make this a standard practice. With time constraints, the time and effort needed to get referrals may seem daunting. However, real estate agents need to realize how helpful they are for their business.
According to a Nielsen report, around 92% people trust recommendations given by family and friends over other types of marketing.
So, don't hesitate to ask your satisfied clients to make an introduction or pass on your business card.
104. Follow Up with Past Clients
It's important for real estate agents to continue staying in touch with their past clients. Most people don't sell or buy homes many times in life; however, whenever they need to do it, you would want to be their preferred agent. Send email newsletters regularly to your past clients. These newsletters should contain valuable information aimed at helping, rather than selling. When you offer such content and reach out regularly, your previous clients are more likely to contact you when they require any help with real estate buying or selling.
Bakery
Bakery is a lucrative small business that is set to get substantially high revenues provided you market your business well. Here are some innovative marketing ideas to market your bakery business.
105. Offer Free Samples to People
We all love free stuff, and when that's delicious baked items, we love it more! Give your visitors the item they want by having some free samples kept on your order counter. When prospective customers want to try something before buying, the item may stimulate their appetite, and they are more likely to buy an extra item for satiating their newly emerged craving. And who knows, your prospects may even buy the entire thing being unable to refuse after trying something!
106. Launch a Website that has Online Ordering Facility
A website is crucial for any business, small or big, that wants to flourish. As a bakery, your business has the additional ability to offer a streamlined, easy-to-use ordering function on your site to allow prospects to order baked items on the go. Although getting a robust website built for your bakery business can be challenging, since you have many other things to think about, but your website will open a whole new channel for driving revenues. If your bakery business is fully online, make sure you promptly respond to all site or form submission queries. Let your prospects know that an actual person is there behind your digital presence.
107. Leverage Social Media Smartly
Make your bakery business accessible easily through social media platforms like Pinterest, Instagram, Twitter, and Facebook. However, before starting with posting on social media, invest some time in understanding social media marketing. People on social media don't want sales materials constantly. They browse videos and photos, find the latest events, or get in touch with old acquaintances. Therefore, avoid hammering them with materials that are overtly promotional. On social media, a combination of content, conversation, and promotion works best. Businesses should share, talk, and sell to drive audience engagement on social media.
108. Sponsor Groups or Community Events
Put money behind a good cause to broaden the reach of your bakery to your target audience. Whatever be the cause you are supporting, you can find a group or event for it. In case you are looking for a cause for support, start with an analysis of your audience. Find out what causes your audience support and how you can help. For instance, you may sponsor an event in a local school, and give fliers to all parents.
109. Provide Baker's Dozen Discounts
Many good bakeries will offer something extra when a customer buys a dozen. They have great sales techniques.
Consider this – when you hear "$5 for 13", that doesn't seem that great; however, "$5 for a dozen, and an extra item for free" seems much more lucrative!
Simply wording an offer in a better way can change how it influences a customer. Bakery owners need to add value to their products using innovative ways, which make the offer better in the customers' eyes. Think about things you can give away which don't cost much yet add substantial value to the offerings. Can it be an extra sample, a free slice, or a coupon?
110. Publish a Press Release
A press release is an effective way to make your audience get to know about your bakery business. However, thousands of businesses send out press releases on the internet every day. So, unless your opening statement or headline is attention-grabbing enough, your press release is likely to be tossed. A good idea is to start with a local newspaper.  Write an interesting story about your bakery that will appeal to readers and keep them reading. For example, you can share how you chose baking as your profession and what inspired you to open a bakery of your own. Let there be some transparency towards your bakery business. You may even include some challenges you encountered when trying to open your bakery. Consider having a friend conduct your interview and then publish a press release including parts of the interview in it in case you think that helps you share your story better.
111. Be Friendly Always
A bakery should be like a friendly, neighborhood shop that always makes its customers feel welcome. Your regular customers enjoy dining at your facility or buying baked products from there because you share a cordial connection with them. You know their face, are aware of their favorite bakery products, and maybe their first name even! Your bakery offers them an experience that they simply cannot get at a large grocery store. So, be friendly with your customers always and have open lines of communication.